Unleash Your Inner Fashionista: What Fashion Designers Can Teach Us About Creativity
Last week I stepped out of my comfort zone by attending a fashion show at the Norval Foundation Art Museum in Cape Town. I have never been a fashionista (sadly somewhat of the opposite!), but when I entered the show and drank in the atmosphere filled with anticipation and a sense of glamour, I felt swept up in the excitement. As the lights dimmed and the music began, the audience gave a collective gasp at the exquisite models sauntering down the runway wearing magnificent creations by South African designer Kat Van Duinen.
The experience was exhilarating and encouraged me to delve a little deeper into the world of fashion. Here are some of the fascinating characters that I "met" during my explorations and three lessons they teach us that will boost our creativity.
1. Be true to yourself
Designer Kat Van Duinen, whose stunning work we enjoyed at the fashion show, explains that when she started her career she often felt very self-conscious about the clothes she created and wore. She often felt judged and misunderstood because her clothes were so unusual. She had to dig deep to stay true to herself and not be derailed by criticism. She built up her inner resilience and sense of self-worth and now feels proud to wear her creations, no matter how unusual.
Kat Van Duinen
Palesa Mokubung is another highly regarded fashion icon who has stayed true to her personal style and vision. Palesa has won numerous awards for her beautiful designs which have featured on runways around the world, including Greece, India, USA, Jamaica, Nigeria, Botswana and Senegal.
Palesa says that she found her sense of identity early. She explains, "I was born in the Free State. I went to thirteen schools, and that taught me to be myself – I learned a lot about who I was and my character and personality by changing schools so often."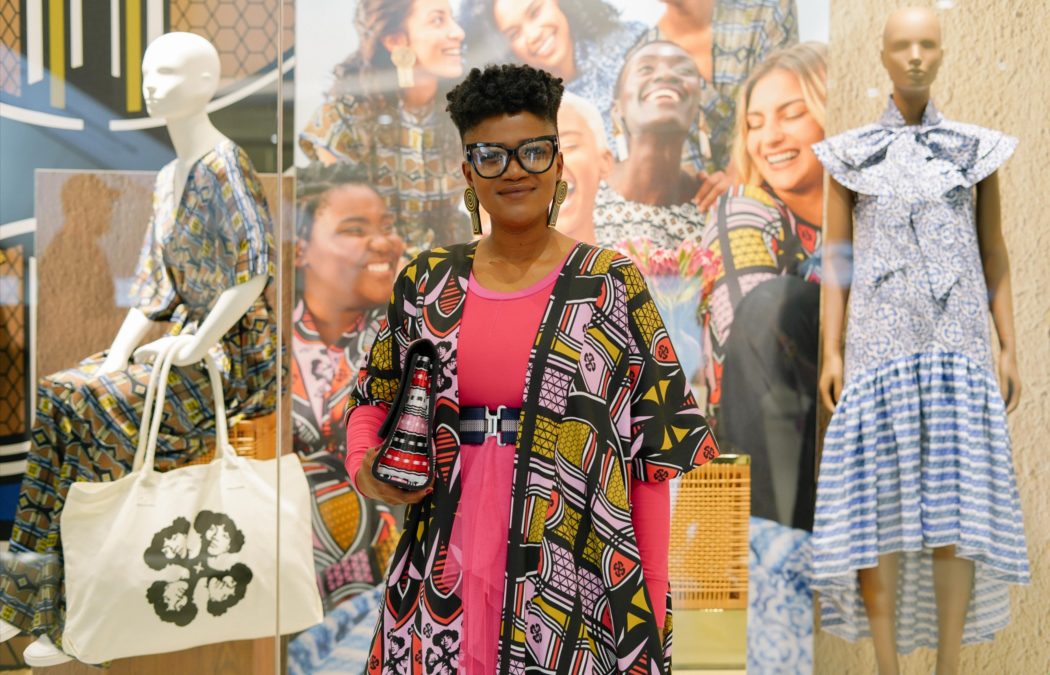 Palesa Mokubung showing off the signature collection she designed for retail giant H&M
Being true to yourself is essential for living a fulfilling and authentic life. When you embrace who you truly are, you can better understand your values, passions, and goals, and you can pursue a life that aligns with them. Explore your interests and passions without fear of judgment or criticism.
2. Don't fear taking risks
My favourite fashion designer is Bridget Pickering of Ruff Tung. Bridget's gorgeous, flowing garments celebrate and empower women of all shapes and sizes. Bridget took a risk by being one of the first designers to put curvy model on the runway. Her models range from size 32 to size 44 ladies.
Creative director Cathy Steed says that Bridget's work has been incredibly important for fashion. With Briget's collection "we are not being dictated to by a label as to whether we are small, medium or large, because none of us are. We are all unique. We are different sizes. We are different shapes and finally we can wear anything. There are no rules." Bridget's willingness to take a risk is transforming the fashion world and has brought huge success to her company.
Bridget Pickering in gold with curvey model Junette Syster
In 2014, fashion house Gucci was in a state of decline with plunging profits. The new CEO decided to hire a new chief designer to bring fresh energy to the brand. His plan was to hire a star designer with a solid reputation, but he decided to first interview a few backroom team members for their input. He was impressed by accessories designer, Alessandro Michele, and decided to test his skill and commitment by setting him an almost impossible task. He gave him just 5 days to design and execute an entirely new collection, a job that usually took months to prepare. He also asked Michele to make an extreme statement through the collection to set a new vision for Gucci. Now that's a tall order!
Michele grabbed the opportunity and had thirty-six outfits ready for a fashion show in just a week. The collection was a massive success. Michele reclaimed Gucci's position as a leading fashion brand and has gone on to become one of Gucci's most celebrated designers.
Alessandro Michele
Alessandro Michele's tenacity and determination teaches us to grab opportunities when they come our way. If you don't feel up to an opportunity, say yes anyway and then work like crazy to deliver. Rather than fearing risks, fear being overly cautious. If you don't give it a try, you'll never know what you might have achieved. We often block our own chances of success by not being willing to try.
3. Pay attention to detail
Fashion designers know that every small detail counts. From the stitching on a hemline to the buttons on a shirt, the smallest details can make a big difference in the overall aesthetic of a garment.
A fashion designer who took attention to detail to the extreme is Karl Lagerfeld. Lagerfeld worked tirelessly producing several detailed drawings of every item of clothing that he designed. He was never satisfied with the usual catwalk shows. He built intricate sets for his fashion shows such as an underwater world or a French chateaux with real lawns, water features and trees.
Lagerfeld's energy, enthusiasm and attention to detail took the then small luxury brand, Fendi, into the global success it is today. He also reinvigorated Chanel, when it was going through the doldrums. He was dedicated and driven right into his golden years. At the age of seventy-nine he launched fifteen collections (eight shows for Chanel, five for Fendi and two for his personal brand). He also published a book on photography. What an inspiration!
Karl Lagerfeld
Lagerfeld cared deeply about his work and put his whole heart into everything he did. He inspires us to work to our own highest standard, to speak out when things aren't good enough and to care about the details. People will care about your work when they see how much you care.
---
The fashion show opened my eyes to a whole new world of inspiration. I learned that good fashion designers are always looking for new ways to push boundaries and create something unique. They experiment with new fabrics, techniques, and styles to create something fresh and innovative. Most importantly I discovered to my delight that a good fashion show is serious fun! Next time you see me, don't be surprise if I'm wearing something startling.